Consumer debt levels have increased across the country. According to Statistics Canada, in Q2 of 2022, the average debt amount in Canada, excluding mortgages, is $46,757.
While this is indeed troubling, several provinces currently are above the national average and unfortunately, Alberta leads the country with an average debt load of over $59,869, 28.5% above the national average. While this is down from earlier in the decade, it has caused one of the highest insolvency increases in the country.
Insolvency & Consumer Proposal Statistics in Alberta
What Is an Alberta Consumer Proposal?
A consumer proposal is an agreement made on your behalf with your creditors to settle your debts and create a schedule to pay them off. Consumer proposals are binding legal agreements that clear much of what you owe and set you up with an affordable way to pay the amount of debt your creditors have not forgiven. To qualify for a consumer proposal in Alberta, you must:
• be unable (for any reason) to make your payments as they become due, or you stop making your payments as they come due
• owe less than $250,000 to your creditors ($500,000 for married couples)
• have an insufficient amount of assets that can be used to satisfy your debt
• hire a licensed bankruptcy trustee to mediate with creditors on your behalf
An approved consumer proposal becomes binding on all your creditors if creditors representing at least 51 percent of your total indebtedness agree to the plan.
Alberta Consumer Proposal Pros and Cons
Pros
The fees and other costs associated with a consumer proposal are far less than those associated with bankruptcy for many Canadians.
Debt collectors will stop harassing you when you sign a consumer proposal.
Your physical assets are protected in a consumer proposal.
A consumer proposal forces obstinate creditors to work with you when lenders representing 51% of your debt agree to the plan.
Cons
Though more affordable than a bankruptcy, a consumer proposal has the same negative effect on your credit as a bankruptcy, and it remains on your credit report for up to seven years.
If 51 percent of your creditors deny the proposal, it does not go into effect.
Bankruptcy trustees are required to pay your creditors as much as possible.
Find Out More about a Consumer Proposal in Alberta
You should know that a consumer proposal is not the only option for settling your debt for less than what you owe.
In fact, a quality debt settlement program or credit counselling can provide many of the same results without as negative an impact on your credit. Fill out the quick debt relief form for more information and find out whether or not a consumer proposal is right for you.
Annual Consumer Insolvency Rates in Alberta
(Per 1,000 Population Aged 18 Years and Older)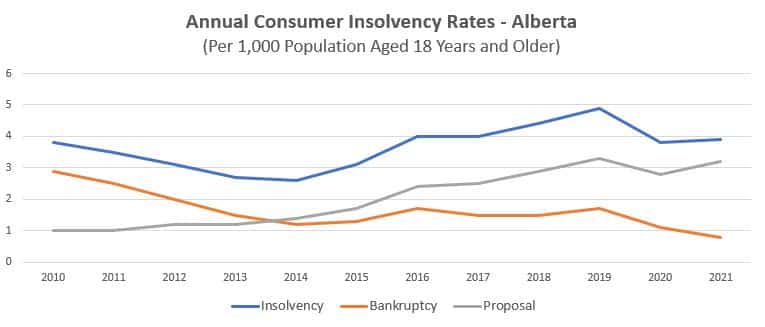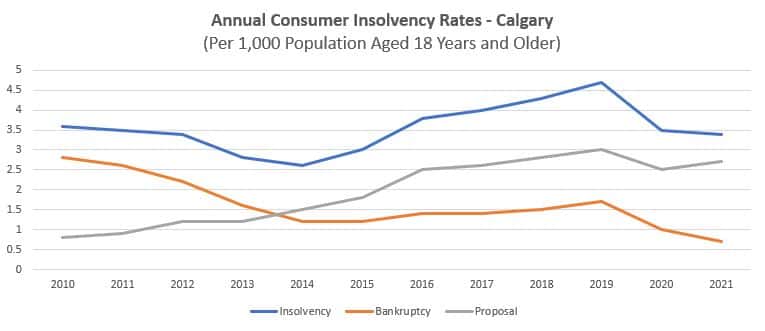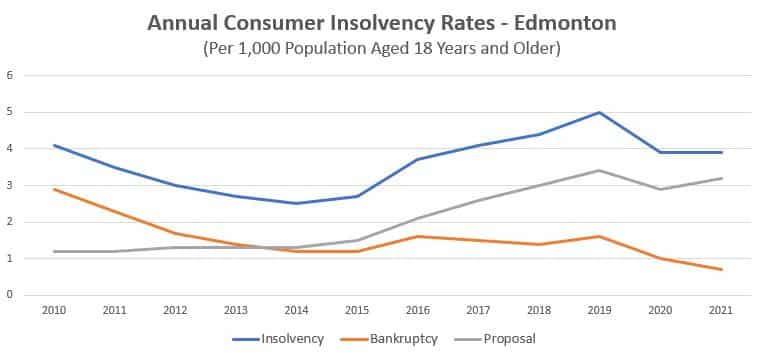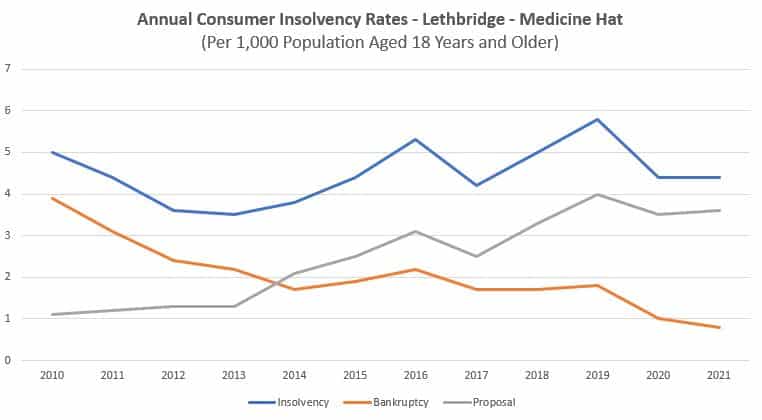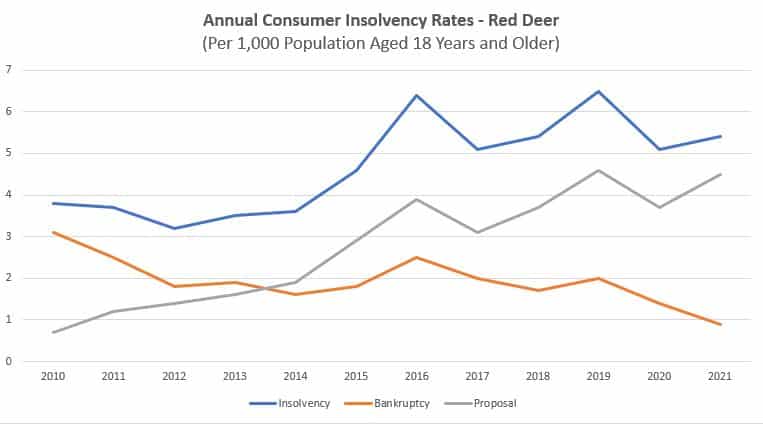 Looking for debt relief resources available in your City:
Consumer Proposal By Province