Debt Relief Help in Lethbridge, AB
Residents of Lethbridge, Alberta have reduced their payments by up to 50% by contacting Debt.ca for help.
Debt.ca will evaluate your situation and refer you to qualified and vetted professionals based on the solution that will work best for you.
Reduce Your Payments By Up To 50%
Lower Your Interest Rates
Make One Low Monthly Payment For All Your Debt
Debt Free in as little as 24 – 48 Months
Debt.ca is Canada's trusted source for debt relief
At Debt.ca, we understand that people might find themselves surrounded with debt for many reasons including job loss, reduced income, medical expenses, or even the rising costs of raising a family. And when faced with a mountain of consumer debt, it is quite easy to become overwhelmed and to believe that you will never be able to pay off your creditors. The high-interest rates associated with consumer debts, late fees for those who are behind on their payments, and much more can seem to conspire against your attempts to become debt free. That is why we want to help all Canadians better understand their debt relief options and save the most money while they get out from under their unsecured loans.
Are you struggling with debt or trying to figure out which Canadian debt relief program will help you get out of debt in the quickest amount of time and for the least amount of money? If so, let us show you that you can live a life free of bills and you do have more options than you probably realize. Simply put, if your paying out more money every month than you have coming in, we can get you to a professional who can help. Fill out the form above to get started today!
CREDIT COUNSELLING HELP IN LETHBRIDGE, AB
For the past several decades, consumer debt throughout Canada has been on the rise. Nowhere in the country is that more noticeable than in Alberta the number of residents filing for insolvencies has increased by 14.6% in 2019 compared to the number of filings in 2018. Bankruptcy protection in Alberta along with Consumer Proposals jumped in 2019 by 13% and 15% respectively over the 2018 levels. This is especially true in Lethbridge as the bankruptcy rates are following the provincial average.
Finding credit help in Lethbridge is a priority for many individuals. Speak to one of our credit counsellors to discuss your financial situation, and learn about the debt solutions we offer and what solution would be best for you. If your overall debt levels increase month after month, then credit counselling in Lethbridge may be your best option. A quality Lethbridge credit counselling program can help you get out from under your debt and shore up your financial future at the same time.
WOULD A DMP WORK FOR RESIDENTS OF LETHBRIDGE, AB?
Residents of Lethbridge often confuse debt management plans with credit consolidation, because they have some similarities. For instance, both programs entail converting several debts into one monthly payment for ease of tracking. However, you still owe the original creditors when you enroll in a debt management plan (DMP). Conversely, you only owe one entity when you participate in a debt consolidation loan. If you're considering a DMP in Lethbridge, you must have a steady source of income.
While DMPs serve those with more than $10,000 of debt, homeowners may have to cash out equity instead. Likewise, individuals who have funds in their RRSP may have to use those funds to pay off the debt in lieu of enrolling in a debt management plan. Speak to a counsellor in Lethbridge to determine if a DMP is the right option for you.
DEBT CONSOLIDATION OPTIONS IN LETHBRIDGE, AB
As a citizen living in Lethbridge, it's not uncommon to fall on hard times. If you're experiencing difficulty keeping up with your financial obligations, debt consolidation may be your best option to get back on track. As such, consolidating your unsecured debts can make managing your payments easier. For example, multiple credit card debts and other liabilities combine into a single monthly payment. This makes it easier to prepare for and remember when just one due date is approaching every month. In addition, that single payment can be more manageable, with a lower interest rate than the existing rates on your different debts.
While there are different ways to consolidate your debt, the most common way is through procuring a loan. However, your ability to qualify for a consolidation loan depends on your current credit score. Learn more about the debt consolidation process in Lethbridge here.
OPTIONS FOR A CONSUMER PROPOSAL IN LETHBRIDGE
To file a consumer proposal, Lethbridge residents must go through a Licensed Insolvency Trustee in the area. Consumer proposals allow their participants to pay back less than what they owe to their creditors. Despite how good that sounds, it comes with some drawbacks and should be a last resort, much like bankruptcy. To qualify for a consumer proposal in Lethbridge, individuals must know to owe more than $250,000. Likewise, a married couple filing jointly cannot have more than $500,000 in debt.
Paying less than what you owe at a lower interest rate comes with some heavy consequences. For one, your credit score drops to the absolute lowest it can go. In addition, the consumer proposal will remain on your credit report up to three years after you complete the five-year program. This can make acquiring credit or buying a home or auto more difficult. Speak to a member of our team who understands the laws regarding consumer proposals in Lethbridge today.
HOW BANKRUPTCY WORKS IN LETHBRIDGE
Many people living in Lethbridge can find it difficult to keep up with the cost of living. If your debts have been piling up to an unmanageable amount, declaring bankruptcy might be the solution to your money troubles. However, one must never take bankruptcy lightly, as it is only a last resort. Speaking to a Licensed Insolvency Trustee can shed some light on your options and inform your next steps in finding a fitting solution.
Remember, declaring bankruptcy gets most of your debts forgiven, however you forfeit most of your valuable assets in return. In addition, you will no longer experience wage garnishments. Conversely, you may not be able to obtain credit for seven years, and there is a limit on how much you can earn during bankruptcy. If you're thinking about filing for bankruptcy in Lethbridge, call us to speak with a professional who can help.
YOU ARE NOT ALONE
In 2022, 9 Lethbridge AB residents reached out to debt.ca to finally tackle their debt problems. They were struggling with an average debt load of $19,534 but now have the help they need to get their finances, and their life, back on track.
Resources available in Lethbridge, Alberta for people needing debt relief help
If you are struggling to make ends meet, apart from seeking professional credit help, there are several national, state, local government agencies, along with non-profit organizations, you can turn to:
Lethbridge Service Canada Centre
920 2A Avenue North, Crowsnest Trail Plaza, Unit 101
Lethbridge, AB T1H 0E3
(800) 622-6232
Available Services:
– Unemployment Assistance
– Child Benefits
– Senior Assistance
CRA – Canadian Revenue Agency
419 7 St S #200
Lethbridge, AB T1J 1H8
(800) 267-6999
Royal Canadian Legion Branch 4
324 Mayor Magrath Dr. S
Lethbridge, AB T1J 3L7
(403) 327-6644
Lethbridge Food Bank
1016 2nd Avenue South
Lethbridge, AB T1J 0C9
(403) 320-1879
Canadian Mental Health Association
426 6 St S
Lethbridge, AB T1J 2C9
(403) 329-4775
The Salvation Army
1249 3 Ave S
Lethbridge, AB T1J 0J9
Debt Consolidation Loans
Loans Canada
Debt Relief Loans
Additional City Resources in Alberta
Helping residents of Lethbridge and the surrounding locations: Fort MacLeod, Lenzie, Monarch, Coalhurst, Broxburn, Coaldale, Cardston, Maybutt, Taber, Brocket, Claresholm, Warner, Milk River and Magrath
Insolvency stats for Lethbridge
LETHBRIDGE, ALBERTA QUARTERLY DATA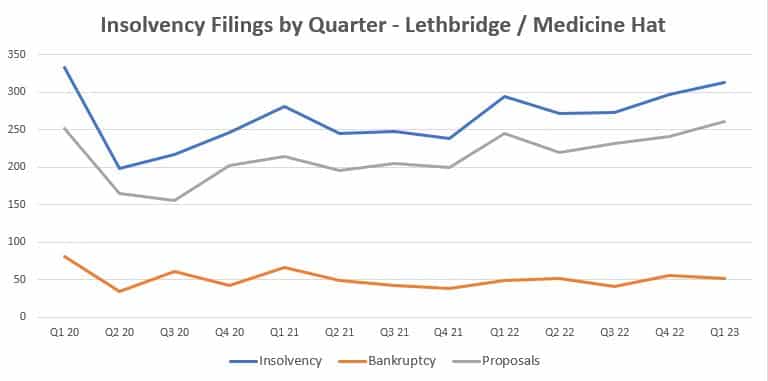 ANNUAL CONSUMER INSOLVENCY RATES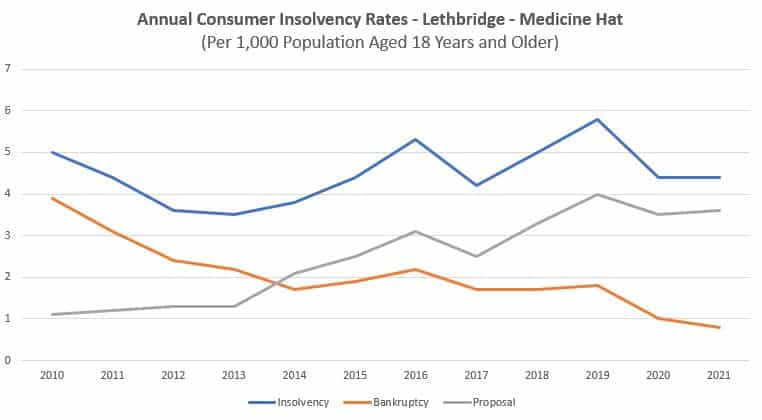 DATA FROM 2022 IN LETHBRIDGE, ALBERTA
2022 DATA
POPULATION
104,254
UNEMPLOYMENT RATE
5.3%
MEDIAN INCOME
$102,000
MEDIAN HOME PRICE
$322,250
MEDIAN MORTGAGE
–
INSOLVENCY
TOTAL INSOLVENCIES:
1,136 *(+16.5%)
AV ASSETS / INSOLVENCY
$94,527
AV LIABILITIES / INSOLVENCY
$105,349
DEBT RATIO:
114%
BANKRUPTCY
BANKRUPTCIES
198 *(+3.7%)
AV ASSETS
$52,810
AV LIABILITIES
$105,103
DEBT RATIO:
199%
CONSUMER PROPOSALS
CONSUMER PROPOSALS
938 *(+19.6 %)
AV ASSETS
$103,332
AV LIABILITIES
$105,401
DEBT RATIO:
102%
Source: https://www.ic.gc.ca/
* () change from 2021
Insolvency Stats are for the Lethbridge / Medicine Hat Region
About Lethbridge
Lethbridge is a city located in southern Alberta. It's south of Calgary on the Oldman River. With a population of over 100,000, it's behind only Calgary and Edmonton in population size. Lethbridge benefits from milder temperatures than the rest of the provinces due to its proximity to the Canadian Rockies.
Lethbridge has a bit of a rivalry going with Red Deer, Alberta. Over the years, Lethbridge and Red Deer have traded places as the third and fourth-largest cities in Alberta. Lethbridge currently holds the title as the third-largest city in Alberta.
LETHBRIDGE'S HISTORY
Before the 19th century, Lethbridge was home to First Nations people and tribes. Although Lethbridge went by many native names, it gained the title of Lethbridge, named after William Lethbridge. William Lethbridge was the President of the North-Western Coal and Navigation Company in the late 19th century.
1885 was a big year for Lethbridge. This year, the first rail line was opened there by Alberta Railway and Coal Company. In the early 1900's Lethbridge was home to a development boom. It suddenly found itself as the marketing, distribution and service centre of southern Alberta.
WHAT IS LETHBRIDGE FAMOUS FOR?
Lethbridge offers a lot for nature lovers. Enjoy the natural tranquillity of the Nikka Yuko Japanese Gardens. From the springtime to autumn, you'll gain a sense of relaxation from walking through these gardens.
If you're looking for something a little more fun, head over to Henderson Lake Park, which is a man-made lake, but don't let that fool you. There are still plenty of fun things to see and do there. Explore the park's seven kilometres of pathways, three playgrounds and many picnic areas.
Looking for more trails to explore? Head to Indian Battle Park on the Oldman River. There you'll find five kilometres of river trail to traverse.
WHAT ARE THE LARGE ECONOMIC DRIVERS?
Lethbridge is Alberta's southern commercial, distribution, financial and industrial capital. It provides jobs to approximately 85,000 who commute to the area. Half of Lethbridge's workers work in the health, education, retail and hospitality industries. The government is a significant employer in the area, ranking as the top five employers in the region.
Lethbridge acts as a hub for the area. Many transport services are available around the city. Lethbridge also provides water to nearby municipalities, including Coaldale, Coalhurst, Diamond City and Iron Springs.
In 2002, Lethbridge formed the Economic Development Lethbridge to help promote economic development in the area. It also partnered with SouthGrow to help bolster alternate energy.
RECENT CHANGES THAT MAY HAVE CHANGED THE ECONOMIC OUTLOOK
Lethbridge's economy used to depend on the agriculture industry, although it has made an effort to diversify in recent times.
Lethbridge has become a popular place for Albertans to retire, due to its milder climate. It has seen a condo construction boom. Many condos there are catered to seniors, providing them with the amenities and care that they need.
Sources:
https://www.tripadvisor.ca/
https://www.todocanada.ca
https://www.thecanadianencyclopedia.ca
https://www.cbc.ca/
Alberta 2023 Tax Brackets
Residents of Alberta are required to pay both Federal and Provincial Income Tax each year on your total taxable income.
Each Province sets their own bracket thresholds.
For Alberta:
10% on the portion of your taxable income that is $142,292 or less
+ 12% on the portion of your taxable income between $142,292 and $170,751
+ 13% on the portion of your taxable income between $170,751 and $227,668
+ 14% on the portion of your taxable income between $227,668and $341,502
+ 15% on the portion of your taxable income that is more than $341,502
Example:
If your total taxable income came out to be exactly $150,000, your provincial tax amount owed would be $15,809.
10% * $142,292 = $14,229.20 plus
20.5% * $7,708 ($150,000 – 142,292) = $1,580.14
Provincial tax owed = $14,229.2+$,1,580.14 = $15,809.34